Gathering RV bathroom ideas is one of my favorite things to do, since way before renovating our RV. Because there is so much impact that you can make with that tiny little space that RV has for bathrooms! So today I wanted to share some inspiration and also some of my favorite bathroom products!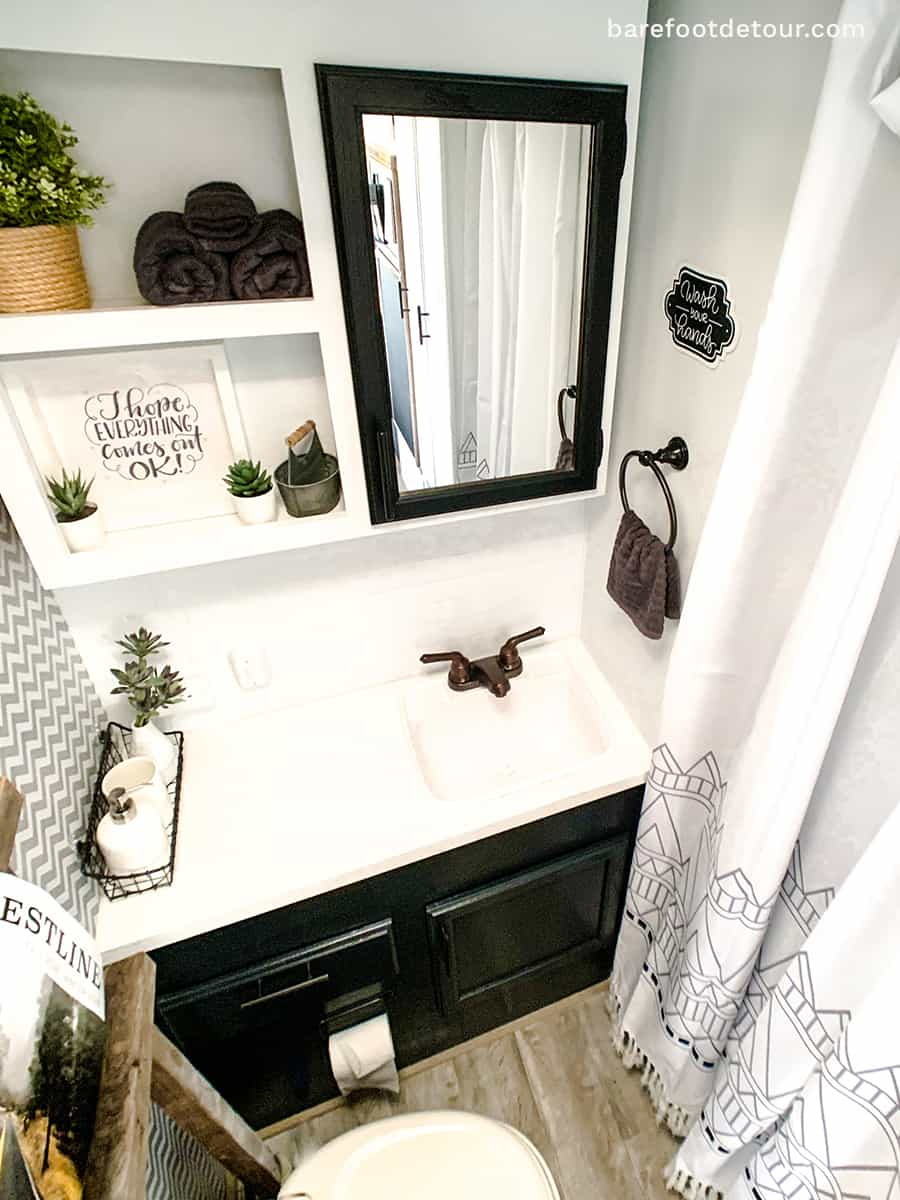 Remodeling an RV bathroom is no small task even when the spaces are (most of the time) very small. So today I want to cover some information and inspiration to help you with your remodel.
RV Bathroom ideas for Remodels (Basics)
When remodeling a bathroom, the size of the bathroom and area you have to work with on the counter will make a huge difference when selecting alternatives for the accessories.
In our case, I really wanted to go with a faucet that didn't look like an RV faucet and a countertop sink, but because of the size of the counter, I was limited to sticking with an RV bathroom sink.
And since I was already going with an RV sink, I just decided to find a cool finishing (bronze rubbed oil) in an RV bathroom faucet.
Why am I sharing this? Because our camper is pretty small BUT if you have a 5th wheel or toy hauler, you might be able to use regular house sinks, faucets, and other bathroom accessories.
Pretty cool huh?
So, I wanted to share some alternatives in both cases.
If you are planning on using a regular house sink or faucet, just make sure that you keep track of the weight, since sometimes some sinks can get pretty heavy.
My plan was to remove the cabinet on the top of our bathroom counter if I could get the sink I wanted, in order to make up for the weight but since I stuck with light RV accessories, I kept the medicine cabinet and only painted it.
RV Bathroom ideas for Sinks
As I mentioned, I wanted to provide two sets of options, the first one, in case you want to stick to RV sinks.
In our case, the sink and faucet had to go because they were not just yellow and gross, but they were also a very cheap upgrade. For about $45 we could replace both, so if you want to splurge with the kitchen faucet and sink, adding an RV bathroom sink might be the best option for you too.
But of course, if you have space, and the wiggle room in the weight you have taken away from your RV remodel, being able to install a regular sink can be the perfect alternative for you. What I like the most about being able to add a regular bathroom sink to an RV remodel is that they can be so impactful in the overall look of the tiny bathroom.

No matter the option you select, one thing that you need to check is the connections, my husband had to make multiple trips to the hardware store just because the fittings in our RV were a little funky, but thankfully we were able to get all the parts we needed without having to find an RV parts place.
RV Bathroom ideas for Faucets
I am sharing the exact same faucet we ended up going below, but also some affordable and super cute alternatives that are RV-specific.

But of course, I also had to share some super cool "regular" options that are not too heavy and that will bring your remodel to a whole new level.
RV Bathroom ideas for Toilets
I know that the toilets are the less "cute" thing to worry about when it comes to an RV bathroom renovation, but it's definitely something you want to consider switching no matter the state of your RV (if you are remodeling a pre-owned RV)
Of course, if it's not bad looking, you can always get away with a VERY deep cleaning and sanitizing of the toilet. But for the price that most toilets run, I think it's a great idea to update it when possible.
If you have a bigger camper, 5th wheel, or toy hauler, you might be able to get away with having a porcelain toilet, we have a couple of friends that decided to splurge on price and weight there.
Also, if you are on the other end, and you have a small camper, like a teardrop camper, a pop-up camper, or a van, you might need something smaller or portable, so I still wanted to include some great options for portable toilets.
No matter the route you go with your toilet, we need to talk about the elephant in the room, the very smelly elephant!
The very first time we took our RV out of our regular spot at my husband's family ranch, we went to the desert, 108 degrees for a week straight. OH! MY! The smells! And with 3 boys flushing the toilet multiple times an hour (it might have been less, but that's what it felt like!
I was quickly forced to do my research and find something that could tame that elephant.
That's when I discovered Happy Camper! It seemed like a magic wand that we could use to get rid of the smells that pored every time we flushed.
No more smells
Eliminates all the annoying sewer smell from your bathroom every time you flush! It is effective even in extreme hot and cold temperatures (over 100° F). It liquified waste solids and most ordinary household tissue.
RV Bathroom Ideas from real Remodels (the basics)
Inspiration is not only the first step in my process when I face a remodel project, whether that is an RV of a home.
So I wanted to share some of the best RV bathrooms remodels to get your ideas flowing and inspiration going, I am highlighting 21 accounts of people that created amazing bathrooms, so check those out and also check their account to see more pictures of their remodels.
I am such a big fan of black and white (as you can guess from our own camper remodel) I love the contrast on this space! My favorite is the black countertop.
Leah and Erik did such a good job with their bathroom, so I also wanted to share the before, so you can be as impressed as we are! If you want to see more inspiration from their RV remodel, check them out on Instagram!
Jacqueline's style is so lovely! I 100% recommend you to check her feed for more inspiration, she is currently re-remodeling her RV, so you get to see how lovely she remodeled her RV and also the current changes she is making =]
Lauren's remodel is so lovely and colorful, I am obsessed with the buffalo plaid wallpaper in her walls, even though I also love this softer wallpaper from LoomWell. I am also a fan of the contrast with the super colorful towels. The contrast with the wood edge round mirror is so cool!
This bathroom remodel from Lee and Candance Rutter is a great example of how impactful a small change can be, they left the sink and updated the top of their bathroom by taking the cabinet away and adding a peel and stick backsplash, a gold oval mirror, and new lights. The change is so wonderful.
I love the soft boho vibes of Jory's RV renovation, if you like her bathroom, you should definitely check the rest of the RV, she will have it for rent in October 2020. She added lines on the walls with a sharpie to create a faux shiplap look. I am in love with the rattan mirror and the farmhouse touches in the decor, she shared that most of the things in the picture were from Hobby Lobby, but I found some similar items that I am listing below in case you are as in love as I am.
I think Bethany's RV remodel was one of the first ones I ran into when I was looking for information and inspiration for our remodel. I love her style and all the lovely details she has added to her RV.
Bethany is a full-time RV-er, and shares so much of her remodel and life on her Instagram. Check her account here and give her a follow.
If you like modern design, you are going to love the remodel by Kelsey. She is planning on renting her RV after she is done. She is doing such an amazing job with her remodel. I was excited to see that she selected the exact same shower curtain as we did for our bathroom.
I love the remodel that Tiffany & Caleb did to their RV bathroom, they were able to replace the sink and faucet for a regular one and the wood details are so lovely!
I am such a fan of Karissa's selection of wallpaper, it reminds me of this wallpaper by Loomwell that I am so obsessed about, but of course in a different color. That wallpaper gives the space such a soft feel and it plays so well with the gold hanger she placed on her wall.
I think that her selection of black mirror and scone from the ceiling down, pair so well and give that modern industrial feel that I love so much. I really like that she also went for a black faucet to finish up the look of her bathroom.
The wood floating shelves inside Bo and Madison's bathroom gives me all the feelings and her black vanity along with the white and black wallpaper bring everything together.
Another example of how much impact some wallpaper can bring into a featured wall, even one in a space as small as a camper bathroom. I love her selection of an over the counter white sink and the faucet that matches her light fixture.
Sometimes a bold statement can be achieved just with a little bit of paint, like in the case of Taylor and Brandon's bathroom, I love the simplicity of the modern take of their bathroom and the boldness of the contrast in colors.
It is no news that @rvfixerupper has some of the best camper transformations, and in this case, I wanted to share this super modern, clean, and lovely corner that she created. I am obsessed with that wood edge mirror! Below I am sharing another that has a completely different feel, but that is also so lovely!
The soft contrast of the natural wood and the lovely arch mirror that Irene selected for their bathroom is both stunning and so cozy! Her selection of finishings is wonderful!
I am a huge fan of what Leah and Brennan are doing with their RVs, they have a motorhome, a small teardrop camper and are now remodeling a new RV if you want to see a tour of their 1.0 Ramblr remodel, check out this post with their RV remodel and I was able to interview them as well!
This one is another bathroom with a wonderful farmhouse feel that I had to include in this collection of bathroom ideas. Follow @rvfixerupper for more lovely RV remodels and tips!
As many of the bathrooms that we have looked at today, this one could perfectly be located inside a house, the details of the wallpaper and shower, along with that wood round mirror is so cool!
This one is probably one of my all times favorite bathroom, Ashley has done such a beautiful job decorating not only this bathroom but their entire RV. For more of her RV and tips, you can also check her blog here.
This is an industrial-rustic shower in all its glory! I love what they did with the pipes and wainscoting paneling.
And what better way to finish this selection of RV bathrooms than with this lovely renovation by Liz. That wallpaper and the details of her renovation will make anyone swoon!
I hope this post can help you ignite the inspiration for your next remodel, I am excited to share with you the reveal of our bathroom very soon!
And if there's anything that you wish I cover, just message me or send us a message on Instagram!