Replacing or upgrading your RV sofa bed is by far one of the most impactful projects to tackle when renovating or just making your RV cozier and more beautiful!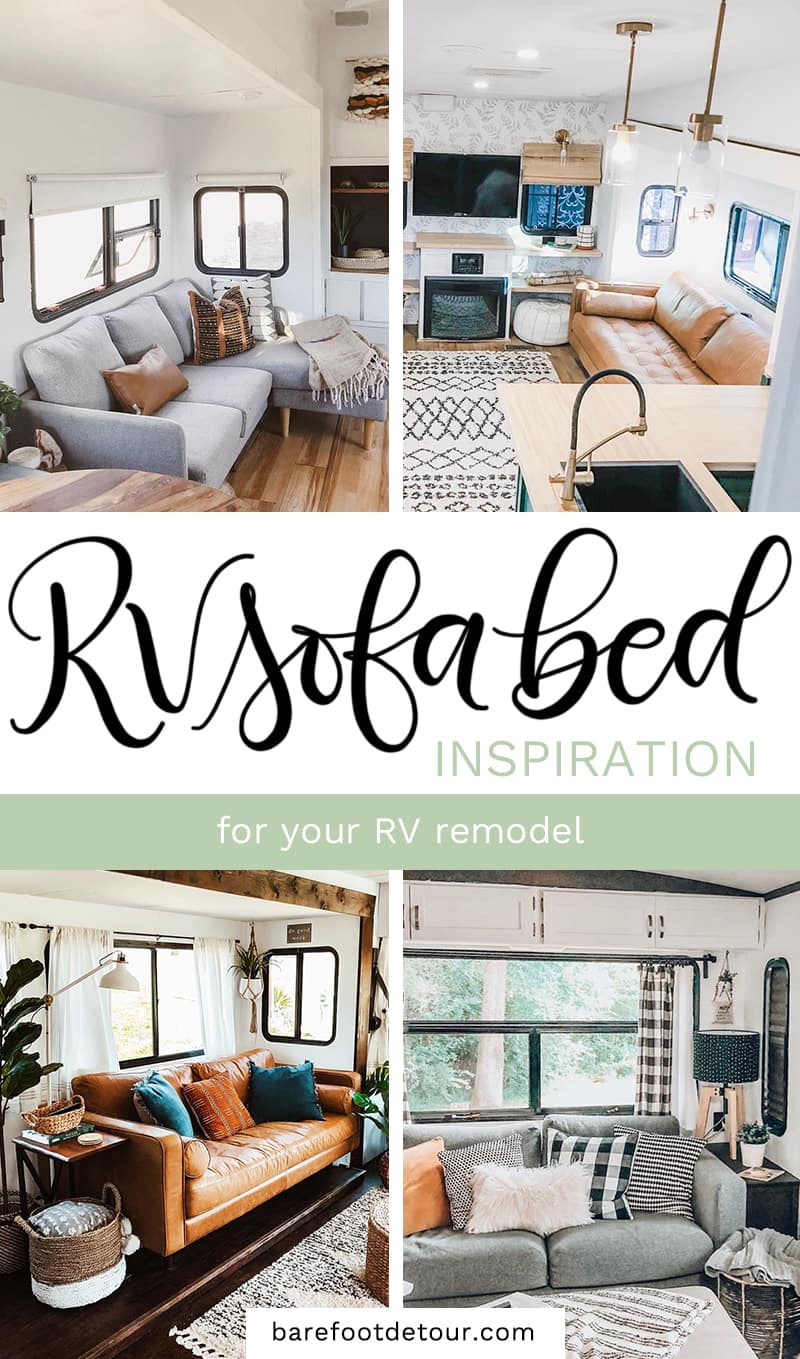 Most old RV's have some pretty crazy setups, with fabric that are not very cool, surfaces that are not very comfortable, and patterns that are super outdated BUT most of them are very functional.
So most RV owners choose to either update the sofa beds they already have OR go with new ones that can deliver in the functionality without sacrificing looks and comfort.
So today I want to cover some of the most important aspects to consider when DIY a renovation for a sofa couch and also some of our favorite options (and the ones we considered when renovating our own Camper)
The most common alternatives are:
Replacing with a regular sofa bed or futon
Replacing with a jackknife sofa
DIY small couch entirely
DIY a slipcover for the current couch

I will go over each one of them and some important thing to consider when deciding what route to go.
---
Replacing with a regular sofa bed or futon
Adding regular furniture into RV's is a trend that keeps growing because of versatility and number of options when you are not restricted to defined styles for a sofa bed.
But there are several considerations to have in mind when considering going this route:
Weight: As we mention in this post that covers 5 things we learned during our remodel. Before adding anything to your RV, make sure that the sofa you will use weight the same or less than the one you are taking away.
Attachment: Most residential couches will need to either be bolted to a surface or be temporarily secured in some way while in transit. I've read of people using bungee cords or making special alignment of furniture to prepare everything inside the RV for bumpy roads.
Safety: On top of having in mind how the furniture will stay in place if you have a motorhome, you will need to consider that if any passengers will travel in this furniture, the law requires them to have a seat belt.

Now that we have cover all the basic considerations, let's check into some inspiration and alternatives I found that will give you a similar look:
---
---
---
---
---
---
---
---
---
---
---
---
---
---
STYLING INSPIRATION
Of course, while researching what other RV owners are using to upgrade their sofa bed, I came across so many awesome accounts that I had to include, so here a little eye candy to get you inspired!
And remember to follow these account for more RV renovation inspiration!
---
TO ROUND THINGS UP
There are so many alternatives depending on your style and budget when it comes to sofa beds.
I hope this roundup will help you find an alternative that will work for you!
Remember that if you have any questions, we always welcome you to contact us!
Happy renovating!
Ps. Save this post for later using the pins below.