It might sound a little confusing when an RV enthusiast gets started talking about all the classes and types of RVs you can buy. But stick around and it'll all start to make sense soon enough.
Since there's so many kinds and classes of RVs to purchase, I wanted to cover some of the most popular ones, the advantages and disadvantages of each one so you can have a better idea as to what kind of RV would be better for you depending on your lifestyle and priorities.
Travel trailers and camper vans come in all different shapes and sizes. A quick read-through of this article will help you learn how they are all distinct from one another.
The Three Major Classes of RV Plus One Subdivision
CLASS A
Description
Class A RVs are also called motor homes. They are large – more like buses than vans – and usually have a distinctive upright front windshield with not much of a slope. Class As are the biggest RV class you can get and have become synonymous with luxurious Hollywood on-set accommodation for the stars and rock star tour buses.
Pros
In most cases, you don't need a commercial driver's license to drive a Class A
Can sleep 6 to 10 people and often more as they have pop-out sections and expandable floors
Gas and diesel variants are available
Used Class A RVs can be bought for under $100,000
The last word in luxury and comfort
Cons
Commercial driver's license regulations come down to state laws on weight category so check first with your state's DMV as well as the state to which you're driving
Impossible to maneuver in narrow spaces
You're limited as to where you can go because Class As can't maneuver in tight spaces
Buying a Class A RV and maintaining it takes a big budget
Least fuel-efficient of all the classes
New Class A RVs start in the six-figure range and head upwards from there
Diesel models cost more than gas models
For use only on main roads
Requires special parking facilities
Don't let the list of cons put you off thinking about buying a Class A. Available in lengths of 21 to 45 feet and with the space to sleep up to ten people in the more opulent expanding models, perhaps motor hotel would be a better description of this outstanding RV type. Truly, Class A deserves to be in a class all of its own.
Interior kitchen and bathroom are standard. This makes it possible for you to stay in one location for longer. If you enjoy life on the road and don't plan on having to maneuver any narrow city streets in your RV, Class As really make a lot of sense – you could even travel with your own washer and dryer on board to get around having to find a laundromat everywhere you go.
Class A RVs, similar to actual buses, have a storage compartment hidden away between the two axles. This is the ideal place to store pedal-power transport, sports equipment, and larger size toys.
If you are lucky enough to have the budget for it and prefer to remote work from wherever you happen to be camping for that week, Class A all the way sounds like a good idea.
CLASS B
Description
If you're looking for a more budget-friendly and fuel-efficient RV, a Class B might be just what you want. Class Bs are typically the most compact of the RVs and are often referred to as camper vans. Class B RVs look like commercial transit vans done over to accommodate sleepovers. They are recognizable by the sloping windshield and newer models have wonderfully smooth rounded lines.
Pros
Fuel efficiency
Maneuverability
Can fit into a normal size parking spot and under parking garage overhangs
Can be used for day to day transport requirements
Perfect for weekend trips outdoors
Lends itself well to spontaneity
Price point
Can come with roof extension for even more headroom
Easy to drive
Cons
Shower, sink, and toilet not standard
The more amenities the Class B offers, the higher the price tag
Minimal storage space
Geared towards camping rather than being a standalone livable unit
Small – therefore not for a large family
As you can see, Class B RVs aren't your average minivan (check out my post featuring some amazing Camper van conversions). They drive like a dream and can also handle the occasional driving on back-roads. This is great because it means you can take the roads less traveled if the mood strikes you.
Available between lengths of 17 to 19 feet, and able to sleep up to 4 people (although four people living together in an 18-foot length vehicle might be a tight squeeze), the main appeal of Class B RVs is the highly accessible price tag.
High-end Class Bs can sell for around the $100,000 mark, but most can be bought new for $40,000 to $50,000 approx. Class B RV space options can be considerably extended by adding a tent or canopy to the setup.
CLASS C
Description
Class C is the RV equivalent of the best of both worlds as it's a hybrid of both the Class A and Class B RV types. Class Cs are built on truck-type chassis cabs similar to a Mercedes-Benz or Ford pickup or transport van, but with a Winnebago-type upfit on top. Class Cs have a sloping windshield and can also have a sleeper space extended over the driver's section.
Pros
More space than the Class Bs
More compact, cost-effective, and fuel-efficient than the Class As
Convenient extra living and sleeping space
Shower, sink, and toilet come as standard
More affordable than Class A
A lovely blend between the Class B camper van simplicity and OTT Class A luxury
More facilities than the Class B – AC/heating, fully kitted out kitchen, appliances, entertainment area, etc.
Good for both weekends away or full-time living
Can sleep one person or up to eight individuals
Do not require a commercial license to drive one
Cons
Tend to look slightly clunky when compared to Classes A and B
Not built to handle extra vehicle storage unless customized to have one (newer models may have this as standard)
Only available with a gas-powered engine
If you have never driven a large vehicle before then a Class C can take some getting used to before you feel comfortable enough to drive anywhere
Less maneuverability compared to the Class B
Camper vans can take a lot of getting used to if you plan on remote working from your RV or living in it full time. Changing up a level to the Class C is a nice way to work around this.
The newer models can even handle an extra tow vehicle attached to them, which is very convenient if you decide you need more storage space or have an off-road motorcycle you simply can't bear to leave behind.
Class Cs come in lengths of 20 to 31 feet and can sleep up to eight people comfortably. The price of a standard model Class C RV comes in well under six figures, unlike the Class As, and has cheaper running costs all around too.
CLASS B+
Description
If there's a Class A and Class B hybrid RV, it stands to reason there's got to be a Class B and Class C hybrid too, right? Bigger than the Class B, and usually more streamlined-looking as well, Class B+ RVs also have a touch more luxury than the more utilitarian Classes B and C. Expect more bells and whistles all around when looking to buy a Class B+ RV – it's still a van, but the basic shape has been expanded to fit in all those extra luxuries.
Pros
Shower and bath combination
Larger kitchen
Bigger living spaces and sleeping areas
More comfort, such as larger high-end mattresses
Lounge areas/entertainment areas
Definitely more family-friendly
Cons
What you gain in space and comfort, you will lose in fuel efficiency
Higher price range and running costs
Class B pluses come in 20 to 30 feet lengths as opposed to the more truncated Class B length of around 19′. These lengths put the Class B+ on a par with Class C type RVs.
If aesthetics are important, Class B+ RVs have a modern, streamlined look that will have everyone at the campsite doing a double-take. This is because Class B+ RVs are new models and lead the way as the latest RV head turners.
They aren't all about the looks, however. A Class B+ is more suitable for families while still being mostly budget-friendly. They can carry more weight and still retain the easy maneuverability of smaller models.
Trailers / Towable RVs
Where would camping be without travel trailers? But trailers aren't just for camping anymore – they also open up a whole new world to glamping, on-road comfort, and can even come through as an extra accommodation option when you have guests staying over. In addition to all that, trailers also come in an incredible range of sizes and shapes.
That's where the confusion can come in for those of you who are thinking about trailer ownership.
How do you know which trailer or tow-along is the best one for your requirements? A quick glance through this list will give you all the information you'll need to make a quick and easy decision.
Pop-Up Trailers
Description
Think of a standard tow-along trailer that magically expands up and out into a spacious tent when you reach your destination, and you'll have a very good idea about how a pop-up trailer looks and functions.
Pros
Basically – a tent on wheels
The sleeping area includes 1 – 2 double beds
Small dining area
Sink with faucet is standard
Cooking top
Compact storage when not in use
Fuel efficient
Doesn't require special driving skills or vehicle to tow
Cons
If a pop-up trailer gets damp or wet then you have to dry it out and air it properly before storage
Tent fabric does not insulate against the cold very much
Only sleeps 6 max
Not recommended for full-time living
Also called a folding trailer, pop-up campers can easily be towed by an average engine size vehicle that has the correct tow bar attached. A pop-up camper's tent-like sides fold down easily and quickly when it's time to leave and as tow-along go, pop-ups are affordable when it comes to gas and cost. All in all, pop-up campers are a sweet enhancement to the whole camping experience and can extend your camping season by a few weeks on either side of spring and fall.
Amenities folding trailers offer the camper are good for the package price. The screened-in sleeping extensions can be augmented by the double bed area in the body. Bigger units are available for anyone who wants to camp with their own toilet or shower.
Teardrop Trailers
Description
A travel trailer but only more compact and budget-friendly. Plus, the iconic teardrop shape and aesthetics.
Pros
Cute and compact
Lightweight
Available with kitchenette in some models
Agile and easy to maneuver
Easy to store away and park
A cozy choice for couple campers and singles
Easy to tow with an average vehicle
Budget-friendly
Cons
Can be cramped
Not for full time living
Claustrophobic for remote work
Must be augmented with a tent and/or campsite amenities
When you see a driver on their way to a campsite with one of these little babies being towed behind their vehicle, it will definitely tug at your heartstrings – that's how desirable a teardrop camper is!
They can be extended up and out by tents and canopies, but if your aim is simply to have a cozy camping and sleeping experience at night and extend your outdoor adventure season by a few weeks, then a teardrop camper is exactly what you need.
Travel Trailers
Description
These are the most common RVs because of the wide range of sizes. You can find them anywhere from 10ft all the way to 40feet.
Pros
Possible to live in and use full time if you pick the right model
More stable and weatherproof than a soft-sided pop-up
Some models offer the possibility to add extended areas with slide-outs
Cons
Depending on the size they might require a specialized towing package on the tow vehicle to control the swaying motion of the trailer
While the small ones are light they are not as light as a teardrop or pop-up camper
Not as fuel-efficient as a pop-up or teardrop camper
Not all models provide the necessary amenities for full-time use or living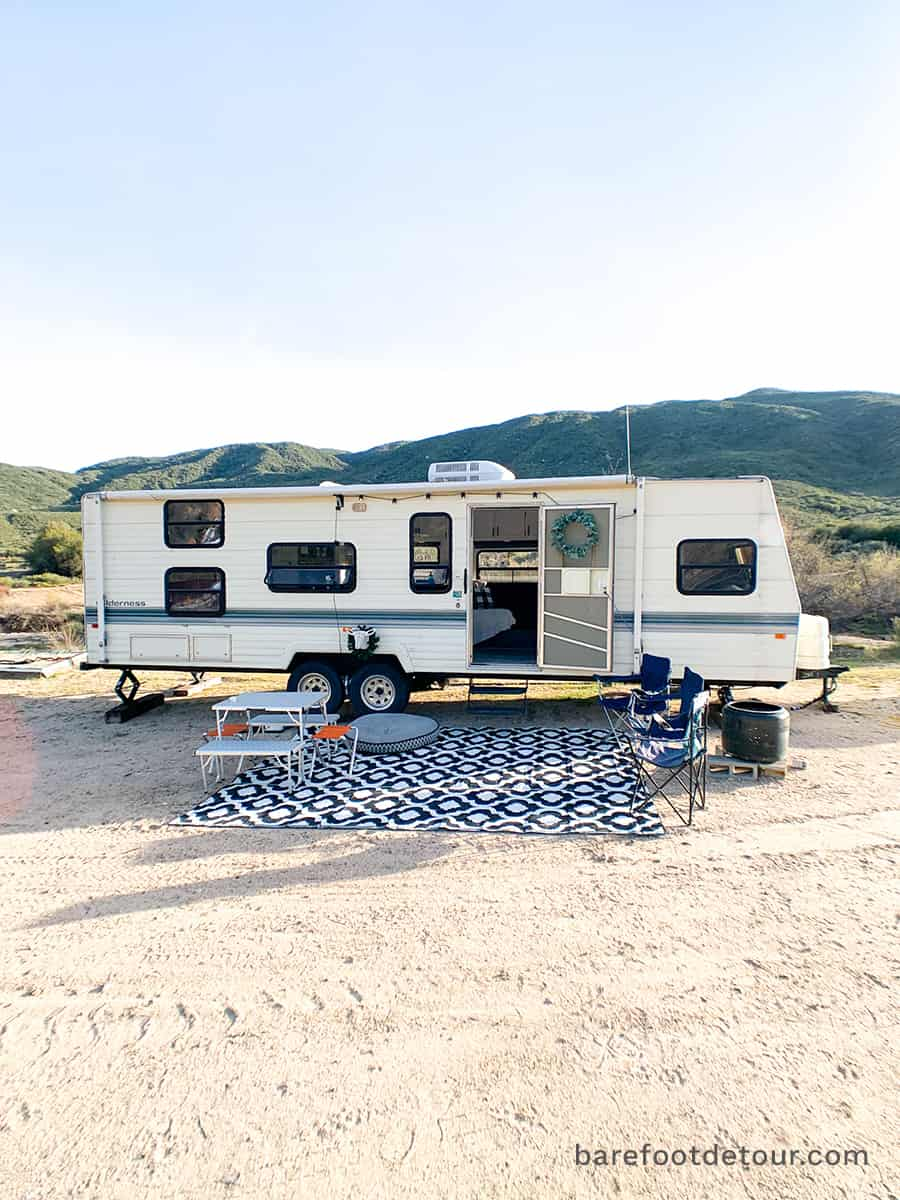 Our current camper is the perfect example of a typical travel trailer. While many companies offer them with slide-outs (usually the couch, dining area, or bed area) the most common ones don't have that are anywhere from 10ft to up to 40ft long.
Hybrid Travel Trailers
Description
A trailer that needs a higher-powered engine in its towing vehicle compared to a pop-up. If you have an SUV, van with designated hitch, or a pickup truck, then think about getting a travel trailer/hybrid RV.
Pros
Possible to live in and use full time if you pick the right model
More stable and weatherproof than a soft-sided pop-up
Hybrid travel trailers have extendable tent material sleeping areas
Hybrids are more lightweight because of the tent materials
Cons
Requires a specialized towing package on the tow vehicle to control the swaying motion of the trailer
Not as fuel-efficient as a pop-up or teardrop camper
Not all models provide the necessary amenities for full-time use or living
Hybrid tent material sleeping areas aren't as weatherproof
Tent material extensions must be stowed after drying if used in wet conditions
A little bit of preparation is required if you plan on buying a travel trailer or travel trailer hybrid. Your tow vehicle must be kitted out with a dedicated towing package first. This is very important to control the trailer's swaying.
If you see a bargain travel trailer RV for sale, look very hard at the specs before deciding to buy one. This is one RV where its number of luxury amenities is directly linked to the price tag.
Fifth-Wheel Trailer
Description
A fifth-wheel is to a full-sized pickup truck as a shell is to a snail. Fifth-wheels get their name from the extension section at the front that stretches out over the tow vehicle's driver's roof.
Pros
Plenty of room inside
Most have a high ceiling in the kitchen area
Possible to live in one of these full time – especially models with sliding-out extension sections
Separate bedroom, living room, kitchen, and bathroom
Can handle a toy hauler attachment
Storage and space to comfortably remote work
Once you have the special wheel-shaped extension fitted to your tow vehicle you will experience close to zero swaying
Cons
If you do decide to use your fifth-wheel trailer on the road a lot – it could cost you more in gas
Correct tow vehicle required – at least ¾ of a ton or more
The special wheel-shaped extension required to be fitted on your tow vehicle
Extra storage space or special parking space needed for your fifth-wheel trailer
Expensive compared to other trailers
A fifth-wheel is more expensive compared to other trailer models and classes, but it is worth it if you appreciate luxury comfort, interior space, and amenities. If you are curious and want to read more just about Fifth Wheels, check this post where we cover everything you should know about Fifth Wheels.
One of my personal favorite details about the fifth wheels is how high the ceilings in the kitchen can get, this allows for some awesome chandeliers or light fixtures that are impossible to use in any other kind of RV, giving it a "brick and sticks" feel to your RV, don't believe me? Check out the images of the Fifth Wheel of Brittany from @brittanywinebarger below, they are just breathtaking!
Toy Hauler Trailer
Description
A toy hauler as the name implies is a kind of RV with a special space to "haul your toys" and by toys we mean bikes, quads, ATVs, bikes, and things of that nature.
They normally have a back garage door ramp that can be used as a mini-deck, but that is not a standard feature.
Pros
Plenty of room inside
The best of both worlds if you want to take your big toys with you when you go camping, so no extra trailer for them is necessary.
They vary in size and complexity allowing room for different or multiple items in the back
Because of the flexible open space in the back, many people use them to live full time and transform the garage into something else.
Most have a separated bedroom and bathroom
Cons
If you do decide to use your toy hauler that is also a fifth-wheel trailer on the road a lot – it could cost you more in gas
If your toy hauler is also a fifth wheel, you will need a vehicle that can tow at least ¾ of a ton or more
Depending on what you are going to carry they can get pretty long, therefor hard to maneuver.
Since you are sacrificing inside space to carry other things, you will need to take them out in order to use the inside space a living space and convert the couch or beds inside.
More expensive compared to other trailers
Toy haulers come on pretty much any size, they can be regular campers, they can be fifth wheels or tiny campers with only a kitchen inside.
As some say, toy haulers are the James bond of the RV world, disguising as a regular trailer but with secret gadgets, or toys on the back. One of my favorite things about some of the more modern Toy haulers is that they use the back garage door as a deck and it looks so cool! Just look at the picture below!
I will share some of my favorite garage conversions, later on, because some Toy hauler owners are so extremely creative when converting their rigs and personalizing them to fit their specific needs and lifestyle, that's why I am planning on a full post covering that.
Wrapping things up
So, which one do you like the most? It's hard to pick a favorite RV, as they are all designed and fabricated with optimal use of space, convenience, and portability in mind.
The best way to work out which RV is most suitable for you is by making a list of your criteria: price, size, sleeping choices, tow vehicle compatibility, and maneuverability.
Once you have the list of what RV features are the most important to you, consider yourself perfectly prepared to shop for your ideal RV.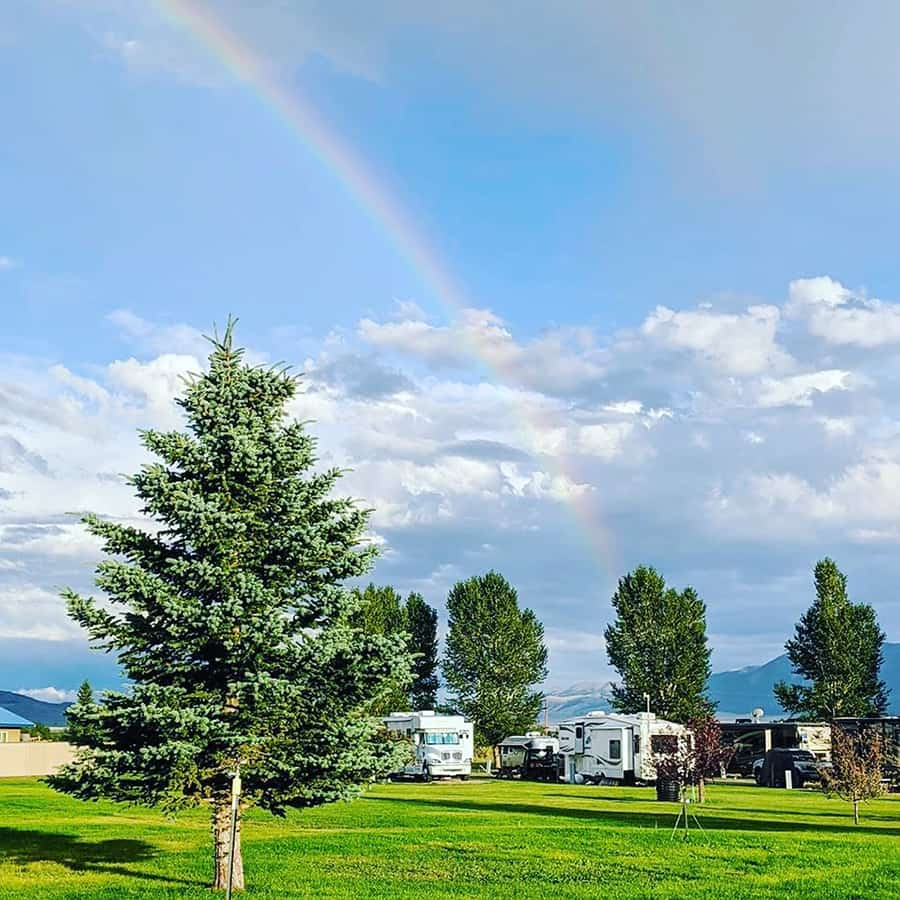 And if you plan to buy something used and renovating it, have a look at this post where I share how we renovated our camper or this one with the 5 biggest things we learned during our remodel.
PS. Save this post for later by pinning the image below!