Mattress buyers don't need to be told that we spend one-third of our lives asleep lying on one – everyone already knows this. What #vanlife enthusiasts do need to know is which mattress is best for their camper, and where they can buy one. Here you will discover what to consider when buying a mattress for your RV, when to replace your RV mattress, and whether you should just add a mattress topper.
A good night's rest leads to a good day's play. Truer words have never been said, especially regarding the kind of sleep you need if you plan on hiking or backpacking from your campground.
Sleeping comfortably is one of the key ingredients for waking up refreshed and ready to enjoy your RV camper experience to the fullest. These guidelines can also double-up for an RV sofa bed and marine or boat mattresses too.
How do I know when it's time to replace my RV mattress?
You will know it's time to replace your RV camper mattress − whether it's a sofa/bed mattress, foldout couch, or designated RV mattress − when it displays one of the following signs:
You wake up with neck or back pain/discomfort
You get a better night's sleep on a different mattress (like the one you use at home)
Your allergies flare up after sleeping on your current mattress
Your mattress may have been contaminated (bedbugs, mites, etc.)
Mattress has an unpleasant odor
You've begun sharing your sleeping arrangements with someone who doesn't like your current mattress
Your physical needs have changed (pregnancy, accident, aging, etc.)
Old mattress
You bought a used RV camper and need a new mattress as part of the refurbishment
You just think it's time for a change!
Why can't I just put my home mattress into my camper?
Folks who live near favorite camping spots will be familiar with the sight of a backpacker's feet sticking out of an old station wagon early in the morning. Their mattress of choice? Always one of those old foam mattresses covered in thin canvas.
For those of you who want a more permanent mattress solution, unfortunately it can't be the same as the one you use at home. This is because of 2 reasons:
Mattress thickness – a thick mattress (12 inches to 14 inches thick/30.5cms – 35.5cms) is not appropriate for floating platforms, bunk beds, on cab-over-beds. Depending on the type of mattress you want to transpose, it will also be too heavy and basically unwieldy. Heavy mattresses inside your RV camper = elevated gas consumption.
Mattress shape – RV bed shapes are completely different from the ones you have at home. They are usually slightly shorter, narrower, or higher up (bunks). Finding a standard residential mattress to fit will be impossible.
What are the best places to shop for a new RV camper mattress?
It's crucial to shop for a new RV camper mattress at a store that specializes in them. It can be a bricks and mortar established stores such as a camping goods store or specialist mattress store. But if you are one of those who don't have a dedicated RV mattress store near you, and need to shop in a wide range of shapes and sizes, it's a better option to buy online.
If you are like the 62% of people out there who decide to buy their mattresses online, there are many advantages to doing this, besides just being able to find the dimensions and weights you need at the click of a mouse button. Buying your motorhome mattress online is ideal for anyone who needs to custom order a specific weight, width, or length. This is good news for anyone who has customized their interior and now needs a mattress to go with it.
It's cheaper buying a new RV mattress online too, as the warehouses don't have the same overheads as a storefront shop. If you are a full-time motorhome resident and plan on moving your RV to a new campground soon, then it's advisable to factor in the 10 days to 2 weeks delivery time when you buy online. Additionally, if you want to take advantage of a "try it – and if you don't like it, you can return it" offer when buying a mattress for your RV, make sure you don't plan on heading out somewhere remote in the near future!
What online places do we recommend?
Irregular shaped mattresses
RV mattresses come in all shapes and size requirements. This is because most motorhome sleeping areas double-up as something else during the day. You might need a mattress with cut corners, larger radius corners, angled sides, round ends, and even single-seating adaptable. Custom RV mattresses are easy to order online, however, and don't add anything extra to the final costing if you choose a well-stocked online store.
RV Motorhome and Camper Mattress Sizes
There is no standard-size RV bed. It's all related to which RV Class, type, make, and floorplan you have.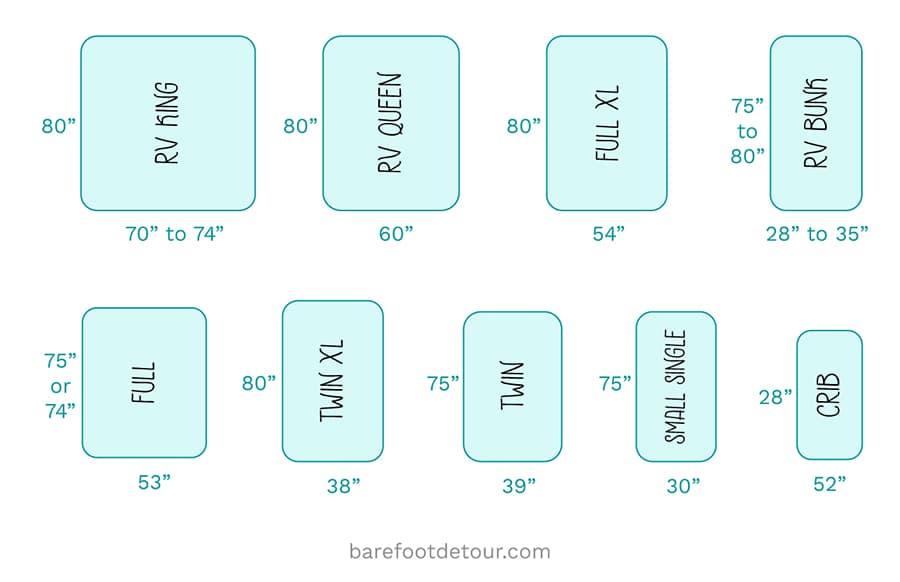 The most common RV bed sizes (commercially available and not customized) are:
RV Short Queen mattress– 60 inches x 74 inches-75 inches/ 152cms x 188-190cms
RV ¾ size – 48 inches x 75 inches/122cms x 190cms
RV King – 72 inches x 75-80 inches/182cms x 190-203cms
RV Twin – 38 inches x 75 inches/96.5cms x 190cms
RV Full – 53 inches x 75 inches/134cms x 190cms
RV Queen – 60 inches x 60 inches/152.5cms x 152.5cms
RV Olympic Queen – 66 inches x 80 inches/167.5cms x 203cms
RV Regular King – 76 inches x 80 inches/193cms x 203cms
RV Bunk – 28-35 inches x 75-80 inches/71cms-88cms x 190-203cms
RV mattress topper – available in the same sizes as full mattresses
Remember when you shop online to stipulate "RV" in your mattress selection.
It is essential to get your size measurements right when buying a custom or replacement mattress for your camper or RV. You can do this by measuring the platform where you want the mattress to fit, and remember to allow for comforter/blanket/sheet space (usually around 2 to 3 inches, depending on whether it's a partial or enclosed space). RV mattress replacements are easier on the budget than buying a new camper when the beds become uncomfortable. If you really want the most cost-effective comfort boost, think about getting an RV mattress topper.
RV Mattress Thickness – the thicker the mattress, the better the support. That's why one of the first improvements motorhome and trailer owners do is to change out the thin foam mattresses for something a bit nicer. A bunk bed or cab can accommodate a 5 inch/13cms thick mattress and other sleeping areas can usually be adapted to fit one 8 inches/20.5cms'
RV Mattress Covers – the outside of a motorhome or trailer camper mattress should be able to withstand pulling double duty as a couch and entertainment area too! Many families love to spend part of their weekend catching up on book reading or simple, old-fashioned relaxation. This means covers should be durable and strong enough to resist long periods of sitting, lying, snacking, and eating. The covers should never twist and pull to one side or have seams that go out of alignment. Check the seams are double-sewn and reinforced with taped edging.
What type of RV mattress should I choose?
There are as many budget-friendly, high-quality RV mattresses to choose from as there are mattresses! These are some of the choices of RV trailers and motorhome mattresses out there; some are recommendable and others will do as a temporary fix.
1 –
Innerspring/coil RV mattresses
This type of mattress doesn't come in a wide variety of choices and isn't found in many RVs. This is because customizing a new innerspring/coil mattress is expensive (and might even be impossible). This is something to bear in mind if you are on the hunt for an RV to buy. If you do have an RV with innerspring/coil mattresses, the chances are you will have to reach out to the manufacturer's when you need a replacement mattress.
PROS
Settling for an RV mattress topper is your best bet
Type of mattress, most usually associated with luxury alongside hybrids
Good choice for luxury Class A motorhomes, fifth wheels, and toy haulers that arrive fully customized as the manufacturer will always have a custom mattress in stock
Hybrid RV mattresses with memory foam and specialist coils are produced with high-quality innerspring made for better compression. If you want the best of both worlds – coil + memory foam – this is the innerspring mattress to choose
CONS
Mattress replacements aren't readily available
Cut or custom corners are difficult to produce
4 inch thick innerspring RV mattresses don't have enough room for an adequate amount of coil twist, means significantly less support
Limits on thickness mean not enough room for springs to "give" before they are fully compressed
Cumbersome, heavy
Can't be compressed so higher delivery costs
Tricky to install in RV
Expensive to buy a replacement from the manufacturer
2 –
Air mattress
This kind of mattress is easy to bring along in your RV and a good choice if you need to adjust mattress firmness according to sleeper preference.
PROS
Best for budget campers
Good to have around if an unexpected guest pops in
Can be taken outside and used
CONS
Pumps can be low-quality and break at any time
Air mattress is useless without a pump
Need to have storage for mattress and pump
Notorious for leaking throughout the night
3 –
Foam RV mattress
This is the student/backpacker/old van staple. Where would road trips be without one? But are they really as bad as they are made out to be? Check out an RV memory foam mattress here.
PROS
Easy to customize to fit any size, shape, or thickness
Cheap
Shipped already rolled and compressed so it won't take a lot of pushing and shoving into your RV
High-quality foam mattresses (minimum of 1.8 density foam) is supportive and won't dent as fast as lower density foam – but the price is higher
High ILD foam lasts longer but will feel very hard when you sleep
Only takes a few minutes to regain the original shape after removing the packaging
CONS
Has a higher rate of deterioration out of all the RV mattress choices
Because of faster compressing over time (sleep grooves when the sides become higher than the middle), foam may not always be cost-effective if you live full-time in your RV or use it frequently
Low ILD (Indentation Load Deflection) foam bottoms out quickly but is cheap to replace
Must be removed from packaging within 15 to 30 days at the latest
Low-quality foam might not ever regain the original shape after removal from packaging
4 –
Memory foam RV mattress/Hybrid RV mattress
Memory foam mattresses seem to have been specifically developed with RV owners in mind. Add to that the "best of both worlds" hybrid memory foam and coil RV mattresses, and you will understand why these mattresses are the most popular choice for weekend warriors and full-time RV enthusiasts alike. Check out an amazing hybrid mattress here.
PROS
Memory foam gives a plusher feel
Thought must be given to memory foam (comfort) and support foam (back and neck support) quality
Best for mattress thicknesses over 5 inches
Convoluted memory foam creates a rich, plush feeling
Hybrids are perfect for both hot and cold weather
Feels just like home!
CONS
Support layer can be foam or coil with memory foam laminated on top so check to see which one you prefer
Not advisable to buy a high density memory foam as it feels harder and weighs more
Shipped memory foam is compressed and needs to inflate and air before proper use
Takes approximately one hour to regain original shape after unpacking
5 –
RV mattress covers and toppers
The outside of any RV mattress should be able to withstand 24-hour use, whether your rig is for weekends or full-time RV living. Check for twisting seams, loose stitching and cover material, and firmness vs. support. Handles to help you move the mattress around it are also a good feature to check for.
RV mattress toppers are the fastest, best way to upgrade a mattress on a budget. They do improve the quality of your sleep as well as protect the mattress underneath from daily wear and tear or staining. Before committing to buying a high-quality topper, however, check that it might not just be your best bet to upgrade the mattress itself. Some toppers can cost the same as a new mattress. Additionally, they do not counteract mattress bug infestations and odors.
Mattresses Made in the USA – It is easier and more budget-friendly to buy custom RV camper and motorhome mattresses in the US. They are also manufactured under stricter quality control (CertiPur US).
Warranties and Returns Policies – Needless to say, no US company is going to jeopardize its reviews by not upholding its warranty and returns policy. Yet another reason to buy nationally. Warranties don't include sagging, only manufacturing defects. Look for RV mattresses with five years, non-prorated warranties, and make sure replacements come at no extra cost. You won't need longer than that, as statistics indicate most #vanlife fans trade up (or downsize when kids leave for college) within five years. As far as return policies go, double-check this applies if you custom-order your mattress. You might be charged any additional shipping fees.
Should I be looking at a sofa bed mattress for my RV?
Sleeper couches are popular in residences, so a sleeper sofa mattress makes sense too. Most sofa beds in RVs require a custom mattress because of the different measurements and dimensions, but a shorter or smaller sofa bed mattress (under the standard 68 – 70 inches/173cms – 178cms) is attainable online. Ensure to measure correctly before ordering anything custom for your RV. If you want to read more about RV sofa beds, check this post.
RV mattress usage and care
Look after your RV mattress the same way you would one at home. Flipping every month (top to bottom; one side flipped over to the other) is recommended, so make sure when you order your sofa bed mattress that the matching upholstery is on both sides.
Memory foam mattresses and hybrids aren't flippable, as the memory foam is only on one side. Settle for switching the top and bottom at regular intervals. Mattress protectors are recommended – even though they don't extend the lifespan of the mattress, they protect it from substances and spills. Or you could buy a mattress that does this.
How to store your RV mattress
Let's face it, full-time or frequent #vanlife isn't for everyone. Weekend warriors can turn into strictly-vacations-only in the blink of an eye, especially as your children are growing up and gain interests of their own. This means that you need to think about how your mattress will store.
I recommend for you to leave your RV camper or motorhome mattress uncovered when the RV is parked and not in use. This allows for the air to circulate. Running a dehumidifier once a week is a really good idea if you live in a hot, humid environment.
If there are any more RV mattress-related questions you have, feel free to reach out to me with them. Life's too short to put up with a bad mattress! 🙂